Comfort and Entertainment Features for the Whole Family in the 2022 GMC Yukon Denali
Available at Todd Wenzel Buick GMC, the 2022 GMC Yukon Denali is a full-sized SUV designed for luxury, comfort, and spaciousness. The 2022 Yukon Denali comes packed with the latest technology and comfort features to ensure your entire family stays cozy, agreeable, and entertained on your next road trip! Read on to learn more about what is inside!
Interior Craftsmanship your passengers will enjoy
The minute you step into the full-sized GMC SUV, you are greeted with the spaciousness and luxury that comes with the Denali name. The roomy interior is loaded with leather seats and amenities the entire family will enjoy. The Denali has enough charging stations to keep your passengers' handheld devices, phones, and tablets fully charged(See Below for available charging stations.) Also available are dual 12.6″ high-definition touch screens with screen sharing and touch capabilities. The mounted screens allow passengers to enjoy entertainment and media by connecting their own compatible streaming devices, smartphone, or gaming consoles via USB or HDMI. Passengers can use their Bluetooth headphones paired to the screen while watching media to keep the ride nice and quiet.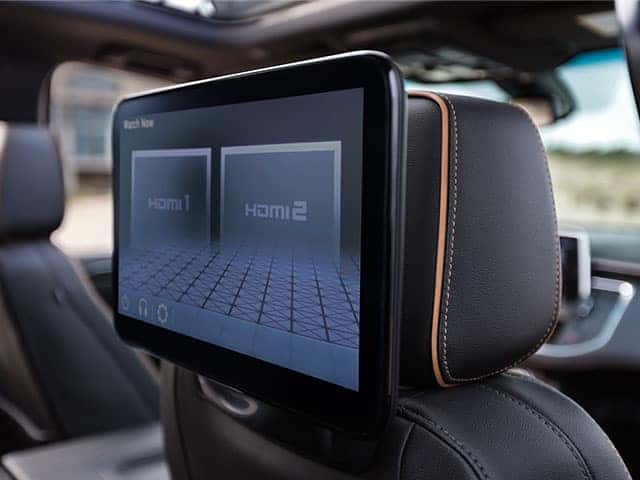 Rear Seat Media System Highlights for the 2022 GMC Yukon Denali
Dual 12.6-inch LCD Touch Screens Mounted on the Back of the Seats.
Connect Smartphones, Tablets, or Game Consoles to enjoy media and even streaming services on the go via USB or HDMI Ports.
Media can be synced up on both screens or passengers can choose what they watch independently.
Connect Bluetooth headphones to enjoy a peaceful drive while your passengers are entertained.
Available Charging Stations
Up to Eight USB Ports

Two 110-Volt Power Outlets

One 12-Volt Power Outlet
Cargo Volume 
The 2022 GMC Yukon Denali has plenty of cargo space. Whether transporting luggage on a vacation, bringing home groceries or making a cross-country trip with your family, The Yukon has enough cargo space for it all! Below we have included the cubic feet of space available for each seat configuration.
Second and Third seating Rows folded down: 122.9 cubic feet of space
Third Row Folded Down: 72.6 cubic feet of space
With All Seats In Use: 25.5 cubic feet of space