HOW DOES THE 2019 GMC SIERRA'S MULTIPRO™ TAILGATE WORK?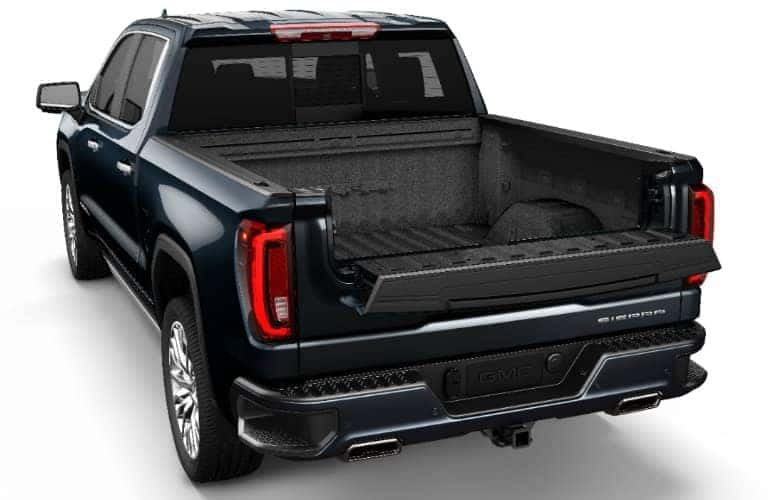 While the MultiPro™ tailgate of the 2019 GMC Sierra is great, it can take a bit of effort to figure out how it works, and what it can be used for. You can check out the explanations below that can help you understand the Sierra's tailgate better.
6 Functions of the 2019 GMC Sierra
Primary Gate: the primary gate functions just the same as a normal tailgate. You can use the press the button on the gate to release it or use the button on the key fob for it to unfold.
Primary Gate Load Stop: it's the primary gate with a panel jutting vertically up from the edge. It will help keep cargo from falling out of the truck bed.
Easy Access: the inner gate is embedded inside the primary gate and can fold down to make loading and unloading cargo easier.
Full-Width Step: when the inner gate is folded down, a panel can be unfolded from it into a step, which can hold up to 375 pounds.
Inner Gate Load Stop: much like the primary gate load stop, only it works when the gate is upright.
Inner Gate with Work Surface: when the inner gate is open, you can fold part of it in on itself to create a small ledge or table to work on, or to assist in loading items.
Where can I find the 2019 GMC Sierra?
Take a look at the 2019 GMC Sierra vehicles available right here at Todd Wenzel Buick GMC. You can check out the Sierra's innovative MultiPro tailgate yourself while you are here, and take the pickup truck for a test drive as well.
More questions about the 2019 GMC Sierra? Feel free to contact us or stop by the dealership in person. We are always glad to help you find the best vehicle for you.