HOW MUCH CAN YOU FIT IN THE 2018 GMC YUKON?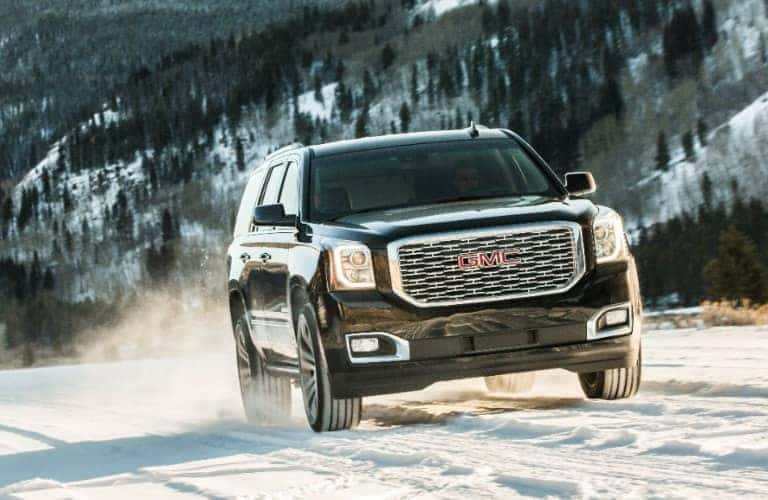 Yukon is the first name of one of the most beloved characters in "Rudolph the Red-Nosed Reindeer," and it also happens to be the name of a popular full-size SUV from GMC. The Yukon stands proudly at the top of the GMC SUV lineup as the largest offering from the automaker, and if you have a sizeable family that you need to drive around town or a whole lot of adventuring to catch up on, the Yukon may be just what you are looking for. How much can you fit in the 2018 GMC Yukon? Read ahead for the numbers.
Seating and cargo capacity
The Yukon offers seating for as many as eight people. The Yukon also happens to have a larger sibling, the Yukon XL, and while its seating capacity is the same, the Yukon and Yukon XL differ in terms of cargo space.
In the Yukon, when all three rows of seats are upright, you can fit 15.3 cubic feet of cargo in the back. When you fold the third row down, that opens it up to 51.7 cubic feet, which is quite the increase! If you do not need to use the third row or the second row, you can fold them both down and open up the Yukon to 94.7 cubic feet of cargo capacity.
If you want something even more spacious, the Yukon XL has your back. Behind the third row in the Yukon XL, you can fit 39.3 cubic feet worth of cargo. If you fold the third row down, you will be able to fit 76.7 cubic feet of cargo. Finally, when you are only in need of the first row of seats, you can open the Yukon XL up to a whopping 121.1 cubic feet of cargo space.
Contact us today if you would like to take a look at the 2018 GMC Yukon or Yukon XL.