Unveiling the Future: The 2024 Buick Envista
In the ever-evolving landscape of automotive innovation, Buick has consistently delivered vehicles that embody sophistication, performance, and luxury. As we step into the year 2024, Buick enthusiasts and automotive aficionados alike eagerly anticipate the release of the 2024 Buick Envista. Promising to blend the brand's rich heritage with cutting-edge technology and design, the Envista is set to redefine the midsize SUV segment. In this blog, we'll delve into the remarkable features and attributes that make the 2024 Buick Envista a vehicle worth the wait.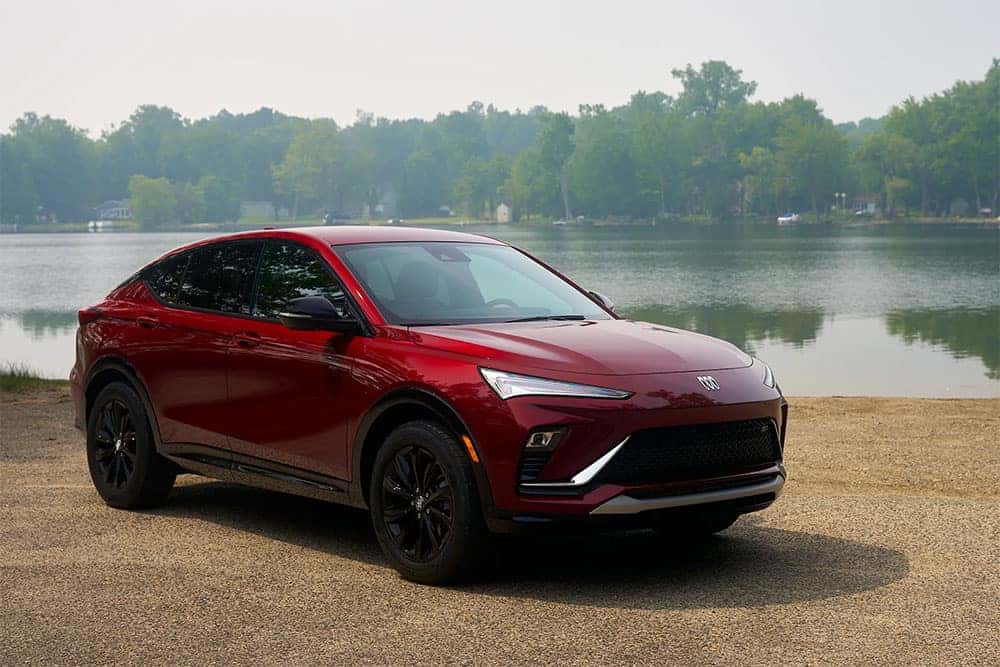 Buick has always been synonymous with elegant design, and the 2024 Envista is no exception. Drawing inspiration from Buick's storied past while looking to the future, the Envista strikes a perfect balance between classic and contemporary aesthetics.
From the front, the bold grille with its signature tri-shield emblem immediately commands attention, exuding an aura of confidence and class. Flanked by striking LED headlights with intricate detailing, the Envista's front fascia combines modernity with timeless appeal.
As your gaze moves towards the sides, the sculpted body lines and flowing contours catch your eye. The 2024 Envista's profile showcases a dynamic and athletic stance, hinting at the performance capabilities within. Available in a range of captivating exterior colors, this SUV allows you to express your individual style.
Step inside, and you'll find a cabin designed for ultimate comfort and convenience. Premium materials, such as leather-appointed seats and real wood accents, create an inviting atmosphere. The spacious interior is designed to accommodate passengers and cargo with ease, making it perfect for family adventures or solo commutes.
The 2024 Buick Envista seamlessly integrates state-of-the-art technology to enhance both safety and entertainment. The centerpiece of this tech-forward experience is the Buick Infotainment System. The intuitive touchscreen display provides easy access to navigation, music, and smartphone integration, ensuring you stay connected while on the road.
For music enthusiasts, the available premium sound system delivers an immersive audio experience that transforms your SUV into a mobile concert hall. Whether you're listening to your favorite playlist or enjoying a podcast, the sound quality is second to none.
Safety is paramount in the design of the Envista, and it doesn't disappoint. Advanced driver-assistance features like adaptive cruise control, lane-keeping assist, and automatic emergency braking come standard, providing peace of mind on every journey. The 360-degree surround-view camera system further aids in parking and maneuvering in tight spaces.
Under the hood, the 2024 Buick Envista offers a range of powertrain options to suit different driving preferences. The standard turbocharged engine delivers an impressive blend of power and efficiency, making it an ideal choice for everyday commuting and long highway drives.
For those who crave more performance, Buick offers a sportier variant with a V6 engine that roars to life with a distinctive growl. This powerplant offers thrilling acceleration and a spirited driving experience, making it a standout in its class.
The available all-wheel-drive system ensures that you have control and stability in various driving conditions, whether it's tackling snow-covered roads or navigating winding mountain passes.
Efficiency is another highlight of the Envista's performance. With its advanced engine technology and aerodynamic design, this SUV offers competitive fuel economy, saving you money at the pump while reducing your carbon footprint.
One of the defining characteristics of the 2024 Buick Envista is its remarkable ride comfort. Buick engineers have fine-tuned the suspension to provide a smooth and composed ride, even on rough road surfaces. Whether you're driving through city streets or embarking on a cross-country adventure, the Envista's cabin remains serene, and road noise is kept to a minimum.
The precise steering and well-balanced chassis make handling the Envista a joy. It feels nimble and responsive, providing a sense of control and confidence to the driver. Whether you're navigating tight city corners or cruising down the highway, the Envista responds with precision and agility.
Step inside the 2024 Buick Envista, and you'll discover a cabin that's designed for both driver and passenger comfort. The seats are not only plush and supportive but also offer heating, ventilation, and even massage functions in select trims. Long drives become a pleasure, and the cabin provides a respite from the stresses of the outside world.
In terms of versatility, the Envista offers a rear seat that can be easily adjusted to provide additional cargo space when needed. This flexibility allows you to configure the interior to accommodate your varying needs, whether it's loading up for a weekend camping trip or picking up furniture from the store.
The 2024 Buick Envista places a strong emphasis on connectivity, recognizing the importance of staying connected while on the move. The Buick Infotainment System is intuitive and user-friendly, with a responsive touchscreen that allows easy access to navigation, music, and smartphone integration.
Apple CarPlay and Android Auto compatibility come standard, ensuring seamless integration with your smartphone. This means you can use your favorite apps, make hands-free calls, and send messages without taking your eyes off the road.
For audiophiles, the available premium sound system elevates your listening experience to new heights. Whether you're listening to your favorite music, podcasts, or audiobooks, the crystal-clear audio quality immerses you in the content.
Buick prioritizes safety, and the 2024 Envista comes loaded with advanced driver-assistance features to enhance your peace of mind on the road. Standard features include adaptive cruise control, lane-keeping assist, automatic emergency braking, and pedestrian detection.
The 360-degree surround-view camera system is particularly useful for parking and maneuvering in tight spaces. It provides a bird's-eye view of the area around your vehicle, making it easier to navigate crowded parking lots and narrow streets.
In addition to these features, the Envista offers optional upgrades like a head-up display that projects important information onto the windshield, allowing you to keep your eyes on the road.
The 2024 Buick Envista is a testament to Buick's commitment to blending elegance, technology, performance, and safety in a single package. With its stunning design, advanced connectivity, versatile interior, and a range of powertrain options, the Envista sets a new standard in the midsize SUV segment.
Whether you're seeking a comfortable and luxurious daily driver or an SUV that can handle spirited drives and family adventures with equal aplomb, the 2024 Buick Envista is a vehicle that deserves your attention. As we step into the future, the Envista is a shining example of what Buick has in store for discerning drivers and enthusiasts alike.
Start shopping for your 2024 Buick Envista online today or give us a call at (616) 974-8339!