WHICH NEW BUICK SUVS COME WITH A POWER LIFTGATE?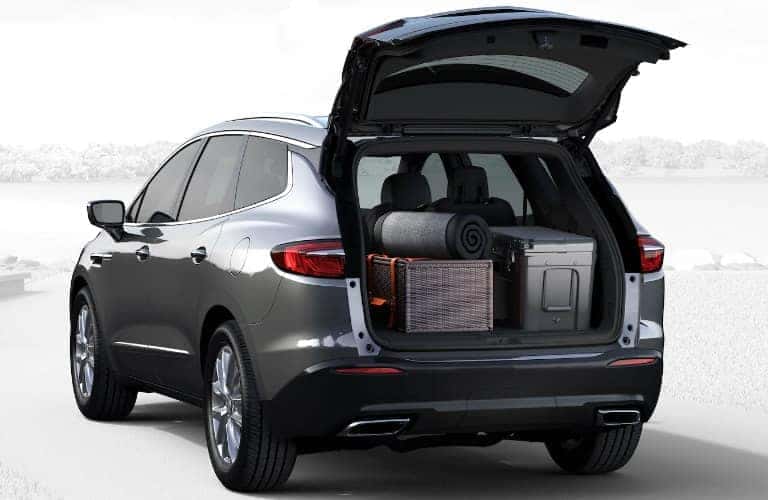 When you see the word "luxury," some of the things that pop into your head might be a spacious interior, cushiony seats, fancy touchscreens, and a quiet ride. While Buick vehicles provide those things in plentiful amounts, there are other elements at play which make for a luxurious lifestyle. Among them is the ability to have a helping hand for certain tasks. If you have ever gone into a grocery store with a plan to just buy a few things, only to come out with seven plastic bags of groceries hanging from your arms, then you know the struggle of trying to load everything into your car without dropping everything and causing a mess. Wouldn't it be nice to have a power liftgate to help you out? That can be the case with certain crossover SUV models from Buick. Which new Buick SUVs come with a power liftgate? Read ahead for more details.
2018 and 2019 Buick crossover and SUV models with a power liftgate
You will find a power, hands-free, programmable liftgate as a standard feature on all trims of the 2018 and 2019 Buick Envision, as well as on all trims of the 2018 and 2019 Buick Enclave. The Enclave ups the ante by adding a light-up Buick logo that illuminates the ground below the liftgate sensor. These vehicles are tailor-made to transport your family, as well as your belongings and cargo, with style and ease.
How does the power liftgate work?
Operation of the Buick hands-free programmable liftgate is a snap-or rather, a kick. Simply approach the rear of the vehicle with your key fob somewhere on your person. On the Enclave, the logo lamp will light up automatically as you approach, and it will stay lit for 60 seconds. Just swing your foot beneath the bumper, then bring your leg straight down, like a little kick. The liftgate will open, and you can then unload your arms of all your cargo.
What comes with the 2019 Buick Envision Premium and Premium II trims?